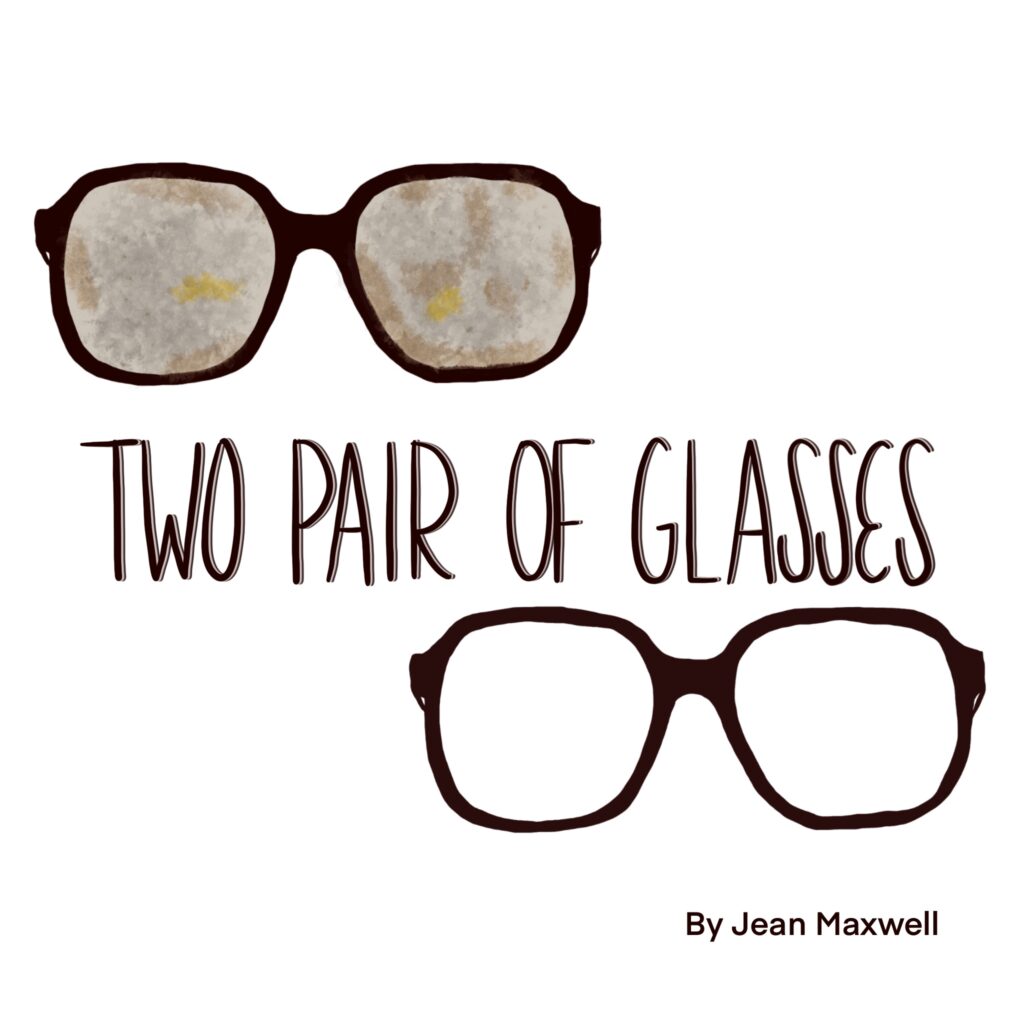 There was a man (it could've been a woman), named Specs, who had two pair of glasses. One of them was old and distorted with a strong smell of decay or worse. The second pair were new and shiny with absolute clarity. Every day Specs had a choice of which pair that he wore.
When he put on the old pair, the world took on a unique, ugly perspective. It was filled with fear, anger, sadness and despair. The people on the other side of the lenses were most often mean, cruel and uncaring. Through these lenses, the world was a scary place, and the view was mostly gray.
And an odd thing occurred when she wore these glasses; everything bad that happened was the fault of someone else..
The old glasses did have some very positive powers. They were as comfortable as an old habit. The glasses made almost everything predictable. Bad situations would essentially always become worse. All beliefs about the viewer and the viewed were proven accurate. As a result, all emotions and actions taken could be justified. And best of all, the person wearing the glasses was always right, and everyone else was always wrong!
The new glasses, though, were very uncomfortable. They had been gotten on the advice of a wise friend who managed to stay connected in spite of the unkind behavior of the old glasses wearer. The wise friend had simply said, " You might enjoy a better view with a new pair of glasses." Specs' initial response wasn't exactly, "Bah, Humbug!", but it was very close. It was really only in a fit of desperation that the woman (it could've been a man) got and filled the new prescription.
The new glasses were clear and sharp. In addition, they had a very positive perspective. The people, on the other side of the lenses, were all unique and human. The world was a place for exploration and discovery. When Specs wore these glasses, he experienced both freedom and responsibility. Over time, it became difficult to distinguish between the two.
The new glasses allowed room for all feelings, both positive and negative. They did not embellish or distort; however, these glasses had a marvelous tendency to also notice excitement, appreciation and joy! There was almost always a view towards either making things better or making the best out of things.
The old friend would always notice which glasses Specs was wearing. Sometimes the friend would comment, "Oh, I see you're wearing your old glasses." or, "You look nice in your new glasses!" Often, being very wise, the friend would ask a question instead, "How are things looking today?" "What's going on in your world?" or simply, "How are you?"
As you might imagine, the responses to these comments and questions were always colored by the lenses of the wearer.
When looking through old lenses, the answers were always negative, defensive and mean-spirited. "As if you care!' "Why don't you mind your own business?" or "Life sucks and then you die!" "Bah, Humbug!!
When looking through the new lenses, the answers were mostly positive, open and thoughtful. "Thank you for noticing!" "You are kind!" "It's a beautiful day!" "I am blessed beyond belief!"
One day, while the old friend was sitting on a park bench, Specs walked by not wearing any glasses. The old friend said, "Hello, where are your glasses?" She sat down and said, "I'm having a really difficult day."
Old Friend: "Tell me about it?"
Specs: "I don't know which pair of glasses to wear?"
Old Friend: "How do you usually decide?"
Specs: "I don't know. I guess I just pick up the first one I touch."
Old Friend: "How is today different?"
Specs: "I'm not sure. I woke up remembering part of a dream. It confused me!"
Old Friend: "What do you remember about your dream?"
Specs: "I was flipping a coin — an old-fashioned silver dollar. The way the coin landed seemed to decide the outcome of the rest of my life. Somewhere in the middle of the dream, it seemed like I could control how the coin would land. When I woke up, I was confused and left the house without my glasses."
Old Friend: "How were you confused?"
Specs: "I didn't know which pair of glasses to choose."
Old Friend: "What do you think the dream meant?"
Specs "I'm not sure; maybe that I have a choice in things? What do you think?"
Old Friend: "I like choice. If you did have choice, what difference would that make?"
Specs: "I'm not sure, maybe that I would have more control of things."
Old Friend: "What kind of things?"
Specs: "I'm not sure, maybe my thoughts and feelings and how I lived my life."
Old Friend: "What do you think of that?"
Specs: "It seems pretty cool but what if I'm wrong?"
Old Friend: "Wrong? Wrong about what?"
Specs: "That I have a choice. I don't believe that I have a choice about everything. My mother died of intestinal cancer. She didn't have a choice about getting cancer, did she?"
Old Friend: "No, probably not. What choice did she have?"
Specs: "I'm not sure, maybe how she dealt with it?"
Old Friend: "Are you saying, maybe we only have choice over how we deal with the things that happen in life?'
Specs: "Maybe, I'm not sure. What about thoughts?
Old Friend: "What about thoughts?'
Specs: "Every day I have thousands of thoughts that just show up. I don't think that I have much choice or control over those?"
Old Friend: "That's the age old question, isn't it? What choice or control do we have over thoughts. The Buddhist call it the 'Monkey Mind'. Do you know what they practice?"
Specs: "I'm not sure. Maybe it's meditating? I think that you watch your thoughts and then let them go. Is that it?"
Old Friend: "That's close enough. What do you think of that idea?"
Specs: "It seems that may be a way to have choice about thoughts?"
Old Friend: "It seems as though you like the idea of having choice over your thoughts, emotions and actions?" What difference might that make?"
Specs: "Maybe. Maybe how I choose makes a difference in what happens in life." Like what glasses I put on in the morning changes how I behave, and how I behave impacts everything else and that changes what happens. Is that stupid?"
Old Friend: "I suppose it depends on what glasses you're wearing. How are you doing without glasses?"
Specs"OK, I guess. It's just that I'm a little near-sighted and can't always see things as clearly as I would like."
Old Friend: "I get it. So now what?"
Specs: "I guess I'll have to learn to decide which glasses to wear."
Old Friend: "How will you learn to decide?"
Specs: "I'm not sure. To start, maybe if I named my glasses, like the coin I flipped in my dream, it was 'Heads' or 'Tails'."
Old Friend: "What will you name them?"
Specs: "My old glasses seem to always leave me hopeless, helpless and powerless. Maybe I'll call them 'Victim'."
Old Friend: "And the new one's?"
Specs: "When I put them on, I feel more powerful, positive and in charge! Maybe I'll call them 'Empowered'."
Old Friend: "How will you decide which pair to wear?"
Specs: "I probably need to study more about the advantages and disadvantages between Victim and Empowerment. Can you help me?"
Old Friend: "I think so. Let's give it a try and see how it goes."